Residential Cleaning & Sealing
Our residential services extend to single family homes, condos, apartments, prefab homes and other property types. Whether a roof, home exterior, driveway, patio pavers, storm shutters, screen enclosure or other structure on your property… we have the service to meet your needs!
RESIDENTIAL Cleaning & Sealing Services
CLEANING
Roof DEEP CLEAN
Home Exterior
Patio & Lanai
Screen Enclosure
Driveway / Path
Deck / Dock
Sea Wall / AC Pad
Hurricane Shutters
SEALING
Driveway – ASPHALT

Pool Patio – Concrete & Paver

Travertine Tiles
Sea Wall
AC Pad
And More!
URGENT RESPONSE TIME FOR HOA LETTERS!
Commercial & Industrial Cleaning & Sealing
We offer cleaning and sealing services for all types of commercial & industrial properties. Whether a strip mall, free standing building,  restaurant, warehouse, office building, parking lot, sidewalk, or even heavy equipment… we have the service to meet your needs!
COMMERCIAL & INDUSTRIAL Cleaning & Sealing Services
CLEANING
Roof DEEP CLEAN
Building Exterior
Warehouse
Strip Mall
Sidewalks & Gutters
Parking Lot Apron
Curbs / Curb Stop
Restaurant Facade
Fast Food Drive-Thru
Dumpster Enclosure
Heavy Equipment
SEALING
Driveway / Parking Lot – ASPHALT

Sidewalk

Travertine Tiles (Outdoor)
Curb
Curb Stop
AC Pad
AVAILABLE AFTER HOURS & WEEKENDS IF NEEDED
Insurance Companies CANCEL POLICIES
because of dirty roofs. Don't get CANCELLED
It happens. Your insurance can threaten to cancel your policy if your roof is dirty, even if it isn't leaking.

Your insurance company may stop by your home to take pictures of:
Shrubs and trees touching the house.

Mold and algae needing to be cleaned.

Lifted or damaged shingles needed to be nailed down or repaired.

Don't waste your money with amateurs Call the PROS.

CALL TITAN PRESSURE WASHING
PRESSURE WASH OR SOFT WASH?
Avoid the Damage. Call the Professionals.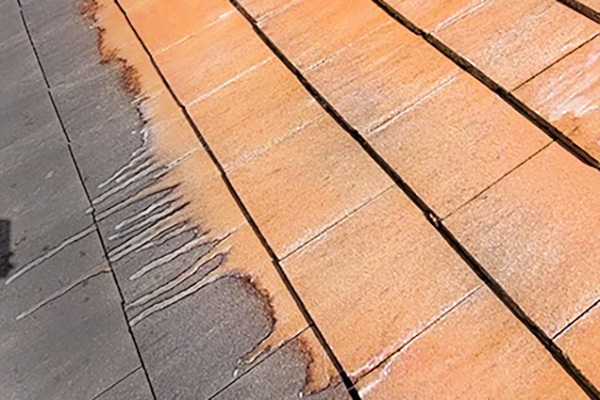 Call the professionals with over 12 years experience. It may cost more up front, but the savings over time from unnecessary damage, leaks and replacements – not to mention landscaping damage – can be tremendous! 
Not all companies have the capability of a soft wash system & proper chemicals. Soft washing actually kills any algae or bacteria growth on your house, rather than just blasting it off. Soft washing is done using less than 500 PSI for rinsing or cleaning applications. The pressure washer tip is replaced with one that widens the spray, therefore dropping the point of pressure. On top of this, soft washing utilizes special cleaning solutions to break down dirt and organisms living on surfaces. 
Avoid the damage from high pressure cleanings, equipment on your roof that can cause the tile to break, blow off or become dislodged, and harsh chemicals that are left on your roof without neutralizer. OUR DEEP CLEAN SOFT WASH process provides total care for your roof, home and landscaping.
YOU'LL GET WHAT YOU PAY FOR…
We are Veteran Owned & Operated. Proud partners of Project 23 to Zero helping reduce Veteran Suicides.